There is too many people connected for the moment.
Please wait 5 seconds. The page will refresh itself.
Exhibition booth online
booking form
Please read the Exhibition Terms & Conditions Security Printers 2016 before submitting your booth booking request. Click here for more information on booth prices and general exhibition information.
Step 1: Click on the interactive floor plan below to select your preferred booth location (if you require a larger exhibition space, please select multiple stands).
Step 2: Complete your full company details and click on 'Book a booth' to submit your booking request.
An automatic notification email will be sent to your email address provided in the form below to acknowledge receipt of your booking request.
Our team will confirm your booth booking by email shortly. Booths are confirmed on a first-come-first-served basis. Online booking requests are valid only after filling in all the form fields and clicking on the button 'Book a booth' at the bottom of the form. Please note by booking a booth online you are liable for payment of the full rental fee.
Any questions related to the availability of exhibition space? Cannot find a suitable booth size or location? Please contact the Exhibition Coordinator at
cmunteanu@intergraf.eu
, and we will discuss the alternatives with you.
Step 1: Select booth location
Ground floor
36
23
35
24
34
25
33
26
32
27
31
28
30
29
1st floor
102
101
100
99
98
97
96
95
94
93
70
69
68
67
66
65
64
63
62
61
60
59
58
57
56
55
54
53
52
51
50
49
48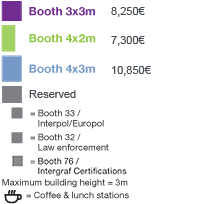 Booth Selection
Prices are exclusive of VAT
Step 2: Company details
All fields are mandatory
Exhibiting company
Postal / Billing address (*)



Postal code (*)



City (*)



Country (*)



VAT number (for non-EU States, please fill in "N/A") (*)


Please note:
• For EU Member States: VAT reverse charge mechanism is applicable
• Non-EU States: 21% Spanish VAT is applicable
Contact person
Title (*)


First name (*)



Family name (*)



Job title (*)



Telephone (*)



Email (*)




An automatic notification email will be sent to your email address provided in the form above to acknowledge receipt of your booking.